Consumer
We offer FMCG and retail clients consumer insights that aid in transforming and improving their businesses across the MENA region.

YouGov's custom research teams use in-depth Qualitative and Quantitative research techniques to give our clients an enhanced understanding of markets and consumers in the MENA region.

YouGov offers a range of services which allow our clients to choose and customize their final level of reporting depending on their needs, timelines and budgets. Deliverables range from basic tables of results, to additional statistical analysis and interpretation, to strategic advice from our industry experts.

YouGov operates a pure research online panel of over 4 million respondents in 37 countries globally. These respondents represent a wide range of ages, socio-economic groups and other demographic types which allow us to access hard to reach groups and create nationally representative online samples. Our Middle East & North Africa and South Asia panel currently has over 500,000 members across 21 countries.
To discuss your requirements please contact Nehal Hassan on +971 4 375 3883 or Jamie Waskey or call +971 4 365 2735.
Contacts

Jamie Waskey
Qualitative Research Director
+971 4 365 2735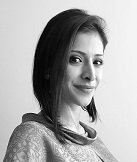 Nehal Jibouri
Research Director
+971 4 369 4298